Student Leaders' Camp 2005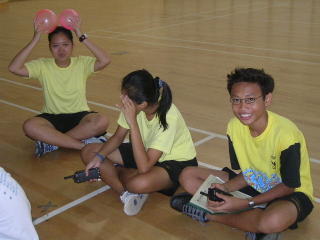 The Student Leaders' Camp was held in school on from the 22nd to 24th June 2005. The outcome was great and all the leaders enjoyed the camp although it was very much similar to a disciplinary camp.
The secondary three student leaders did a great job organizing it. There were numerous enjoyable activities planned such as "Tele-match", "Night Walk" and "The Amazing Race". During the much-anticipated Night Walk, the student leaders were blind-folded and made to believe that they were actually going into the forest which was situated beside our school. But in actual fact, they were walking around the school compound. (Evil laugh.Mukakakaka). They had to overcome unnatural barriers and obstacles along the way. Some of the leaders suffered from bruises and cuts due loss of balance. (Evil laugh.Mukakaka).
The last night was celebrated with a campfire. Each group had to prepare a special performance which was later presented during the campfire night. The Guest-of-Honors who graced the ccassion were Ms Ong SC and Mr Soh SL Other than the group performances, the Malay Drama Club had acted out a performance which had the audience gripped . Though we were loud & spirited, all of the leaders enjoyed themselves. Overall, the camp was fun and the food provided were more than satisfactory.
I sincerely hope that after this memorable camp, our student leaders will be more disciplined and equipped with solid team building skills to lead others with pride and confidence.