Guests' visiting West Spring - Principal and Teachers from Uttam School For Girls, India. (: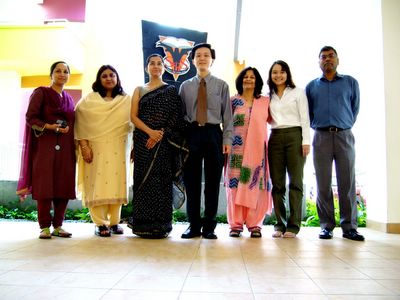 A group photo behind the beautiful fountain of West Spring before they left. Thank you so much for visiting our school after a whole 6 hours flight from India to Singapore, Principal and Staffs of the Uttam School For Girls. :>
Today we were very honoured to have the Principal and Teachers of Uttam School For Girls in Ghaziabad, India, to come to our school as guests.
Uttam School for Girls, is a premier institution not only in Ghaziabad, India but also the National Capital Region. It is a highly reputable and famous school with their honourable achievements in education whereas they provides accordingly and sufficiently for every child entrusted to them in Uttam School. You may want to read more about their school at
http://www.uttamschool.org
of their excellent achievements (:
Mrs Shashi, the Principal of the Uttam School for Girls, accompanied by her fellow teachers, Ms Tamanna, Mrs Kavita and Mrs Arti were touring around the school compound together with our Principal, Mr Seet and Mrs Liau, our Vice-Principal. With the warmest greetings, we welcomed the guests in to our school for a short tour of our first class school facilities.
It was indeed a very good opportunity for both schools to exchange views and experiences in this field of education as different cultures exists in both schools.
Hopefully, an exchange programme between both schools will be held earlier at the end of this year so that we can both experience different studying styles in both different countries and learn from each other. It will definitely be our honour to have such a golden opportunity to explore what's outside Singapore and how the other students of the similar age as you study in their school.
Last but not least, we would like to thank Mrs Shashi, the Principal of Uttam School for Girls and her fellow teachers, Mrs Kavita, Mrs Aarti and Ms Tamanna once again for making a trip down to West Spring after full-6-hours flight from India to Singapore. We sincerely hope that all of you have enjoyed yourselves in West Spring and definitely yearns for another chance to see all of you again.
Also, a chance to go to Ghaziabad to visit the Uttam School for Girls and learn from the school's enriching studying culture. (:
KARENN
- BlogM2.